I finished up the first sleeve of Round Trip shortly after my last post. I believe I finished it on Monday, but I could very well be mistaken. I have to be in the mood to pick up that many stitches again, so I've not yet started the second sleeve, but here's the first one.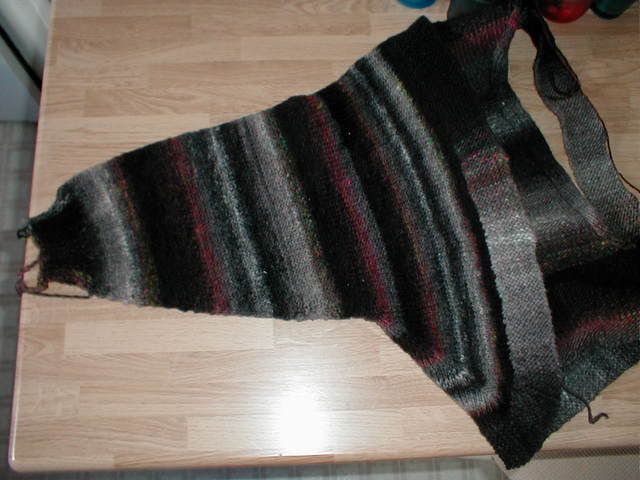 I love that gentle slope of the sleeve, and making the cuff was FUN. Aside from the picking up of stitches (somethng I've never liked), I wish this sweater would never end!

While I wait for the gumption to pick up for the second sleeve, I casted on for T's fingerless gloves. I'm just using Brown Sheep
Naturespun
in a dark gray, and I want to finish them before winter is totally over.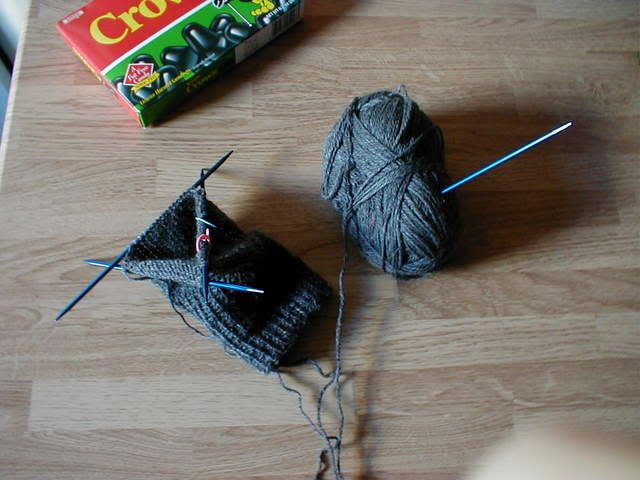 I'm just finishing up the thumb gusset. I'm using Ann Budd's Knitter's Handy Book of Patterns, which I highly recommend.

I met up with my friend Amy yesterday at the yarn store, where I managed to not get any yarn, but did get two books, both by Debbie Bliss. I picked up
The Tweed Collection
, because I've been eyeing the Biker Jacket ever since the book came out, and
New Baby Knits
, because Amy is expecting and her baby NEEDS to have an all-in-one sheep outfit. I've never heard of the yarns she uses in the baby book, but I'm sure it won't be hard to substitute. Most of the patterns in the book are cute, and I'm sure I'll get to make few more things out of it, too. (Though, not for my nephews, because my sister prefers clothes for her kids to be plain, plain, plain.)