I made a bag for my BFF for her birthday. I couldn't find a pattern that I liked, so I made this up myself. It's basically two squares held together by an extra long strap. To make the bag sturdier, I used double thicknesses of all fabric pieces, including the lining. I also did double zigzag seams. The zipper gave me some grief, but mostly because after I had the whole zipper set and sewn, I discovered it would not open. I finally got it to open, but it's still not as smooth as I would like. It gets better with every tug, though.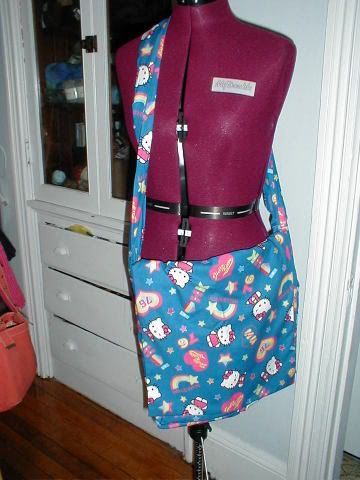 This is Evelyn's first modeling job. Isn't she doing a great job?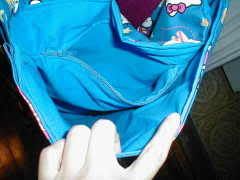 Lining and blasted zipper.

In other news, I went to the fair today to check out how my sweaters fared in the exhibition. I got a red ribbon (2nd) for my lamb all-in-one, and a white ribbon (3rd) for my Round Trip cardigan! Best in Show went to a lovely aran sweater. What they say is true: once you enter in a fair, you'll be hooked! I already can't wait until next year, and actually find myself thinking of stuff to make
just
for the exhibition! I also plan to perfect my pie crust so I can enter into the big apple pie contest (it's one of the highlights of the fair). My filling, if I do say so myself, is pretty dynomite, but my crust tends to be a little hit or miss.
Work continues unabated on Rogue. I'm almost done with the first chart, and am getting ready to split for the arms. Now that it's getting colder, I just want to be knitting
all the time
.