I decided to cast on for some socks the other day. The ribbing at the start is torturous, but I was jonesing for some straight stockinette in a tube. A confession: I always knit socks using US2 needles. I never ever swatch for socks. If I use a worsted weight, I use US5, and for sport, I use US3. I have never had an issue. Until now.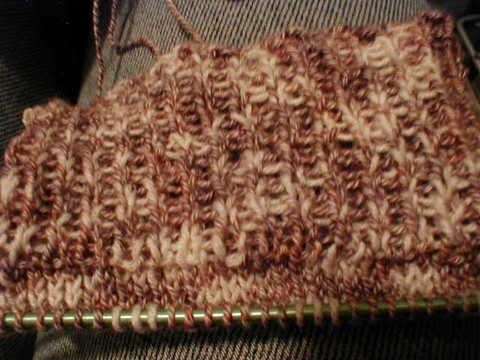 First and foremost, does anyone else see the polka dots forming here? They only occur on this needle (which happens to be the top of the sock), but they're pretty obvious. I can't live with them. So I decided that I would rip this sock (after taking a picture, of course), and reknit from a different starting point in the yarn.
Then I got honest with myself about the cuff. Look at it! I mean, sure... oftentimes a sock's ribbing looks a little wonky until the first wash, when the yarn blooms and the stitches settle down. But I don't think that a little water is going to dampen this party. These stitches are
loose
. Knowing that I am using a yarn with a different fiber content than what I'm used to for socks, I should have gone ahead and swatched. Or at least realized after the first few rows that it wasn't going to work. Live and learn. I'll cast on for these again in a couple of days. Tonight, I think I'll cast on a hat.
The yarn pictured is
Sockotta
, in color 10. Nice, neutral brown and tan. It's 45% cotton, 40% wool, and 15% nylon. I've never knit cotton socks before this pair. I hope the wool will be enough to keep them from sagging.
In other news, in the interest of full disclosure, I fell off the wagon this afternoon. I stopped at one of my favorite yarn stores (but not one that's local) for some dpns for a hat project. When I walked in the door, it looked like a rummage sale. There was yarn piled everywhere, and I wondered if someone had forgotten to lock the door. Turned out they were having a going out of business sale! I got four hanks of Classic Elite
Lush
and one hank of Cascade
220
for under $20! I tried to resist the yarn, but then came to my senses. I mean, if I didn't grab some of that
Lush
, I might have kicked myself for the rest of my life. Now to find the perfect, cuddly project.