I'm in the home stretch of Green Gable. I passed the waist shaping last night, and really thought I could even get it finished for today, but it wasn't meant to be. I was meant to play with rats and bunnies instead, and make a file of ISBNs for my new obsession, Library Thing. It's so cool! You input all the books you own, and Library Thing shows you who else in the database has the books you have, how many of your books are shared with other people, and let's you tag and rate your books. My favorite feature so far is the one that shows you books that only you and one other person have. It's going to take me awhile to input all of my books, especially since I'll have to create a file at home to upload at work, but I think it's worth it.

Anyway, this is a knitting blog, and I'm sure you're all dying to see the progress on Green Gable.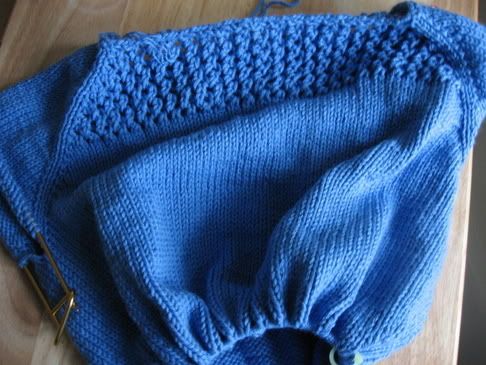 Can you believe all of that was knit using one ball of yarn? I love summer knits! I'm hoping to finish this tonight so I can wear it tomorrow on my birthday roadtrip. That's right, tomorrow I turn the big 3-1, or, as I like to call it, twenty-eleven.