Well, I have one more square finished (only three to go!), but no photo of it. I hope you'll be content with some blathering, because I feel like talking about knitting, but no one with whom to talk about knitting.

First, I saw a pattern today that made my heart skip a beat. Here's a picture of Hello Yarns' version. Look at those adorable squirrels! (Here's a link to the .pdf of the pattern.) I'm feeling a little squirrel crazy because of the latest girl to join our clan.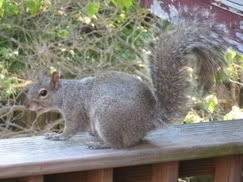 Meet Fats!

Judging from the shape of her belly and nipples, she just had some babies. We're hoping that if we leave food out for her, she'll bring the babies around when they're bigger. What can I say? I like small fuzzies.
Speaking of patterns (in other words, bringing this back around to topic), I have been daydreaming of knitting something besides off-white
Encore
for the last week or so.
This
post by Amelia Raitte convinced me that I need to jump on that
Jaywalker
bandwagon and make a pair using my Tiger striped Opal.
I purchased the
Leaf Edged Bolero
pattern some time ago, and am now thinking it would just the thing to carry around when the A/C gets too arctic. The big question is, do I buy some
KnitPicks Shine
, or do I use the
Cascade Pima Tencel
I picked up during the WEBS sale?
I still haven't forgotten about the Astrakhan cardigan either. That Astrakhan taunts me daily from my knitting basket. I also still have to swatch some yarn for two different gift sweaters (planning ahead for Fall gifts), and also envision giving everyone on my Christmas gift list a hat or pair of mittens. Probably a pipe dream, but I'd at least like to give something to those I've not yet given something handknit.
Looks like my break is over, and there's a big storm brewing. I'd hate for a lightening bolt to erase all of my daydreaming!