As the afghan quietly blocked on Saturday, I decided I should swatch some of the KnitPicks Merino Style that I picked up some time ago for a sweater. My initial reaction to the yarn is a resounding "okay." It's not horrible. It's not scratchy or pilly or splitty. The color is nice, and the stitch definition is good. But it's not as soft as other merino wool I've felt. Of course, it's also dirt cheap! As the sweater recipient likes the color and the feel of the yarn, I will be ordering more. I think at the same time I'll order a ball of their Shine cotton to try. I bought a color card when I ordered the merino, and the wee pieces on the card feel soft and look pretty. Wanna see a swatch of the Merino Style? I know you do!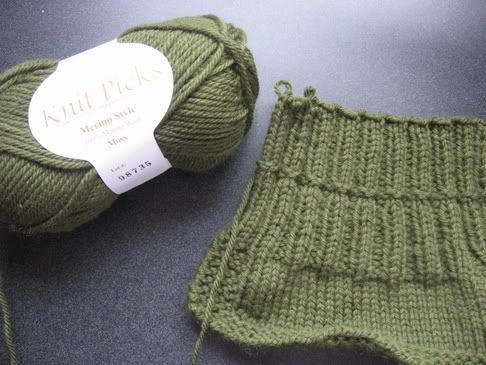 So, you're probably thinking, "Surely she doesn't think a measley swatch constitutes cheating? What's up with the subject line?" Well, my digressions do not end with the swatch. I also swatched for something else.
Green Gable.
The trouble is, the yarn knit up so nicely... and the color was so nice... you can see why I just had to jump right in! I mean,
I got gauge on the first try!
If that's not a sign, I don't know what is! So while the afghan sat in a pathetic, folded heap, I knitted yesterday away with my new love.
That's good ol' Lion Brand
Cotton Ease
in
Candy Blue
. I totally forgot that I had this shade until I ransacked the stash for my orange
Cotton Ease
. As it turns out, I don't think that shade of orange becomes me. It's a little, uh, vibrant. But this blue was just the ticket, AND I have just enough (with maybe a ball to spare) for this cute little tee. I can't wait to wear it.
I did take another look through
Knitting on the Edge
for edging options for the afghan. Since it turned out a little smaller than I anticipated (four feet by five feet
sounds
big), I'm going to choose a fairly wide edging. Especially since I have so much yarn left. I hereby solemnly swear to get cracking on the afghan, it would such a waste of momentum to let it sit.
Right after I finish Green Gable.