The weather around here has been a little schizo lately (as I read it has been pretty much everywhere). One day will be cool and sunny, and the next will be insufferably hot and humid. We do not have A/C hooked up in our apartment, but have been keeping the draperies pulled closed and windows kept open for breeze, and have done okay. Yesterday was the first day I had issues knitting because of the weather. I was determined to finish the right leg of the lamb all-in-one, and the left foot. The yarn stuck to the needles, making every stitch a challenge, but I persevered!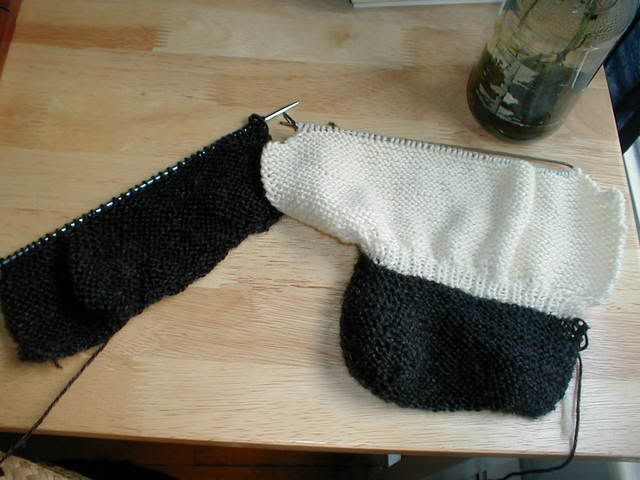 I don't know if bamboo needles would work better in the humidity or not. You'd think metal would be best. This little outfit is going to be so darn cute! I can't wait to finish it!


I find that when the weather gets really steamy, socks can't be beat for small, portable projects! They don't lay in your lap like a fat cat, making the sticky weather seem even stickier. It is conceivable that you'll be able to wear them during the summer, on a cool summer night, perhaps. And, they are a quick project, which enables your poor, heat addled brain to stay on task and not throw temper tantrums at having to think so hard.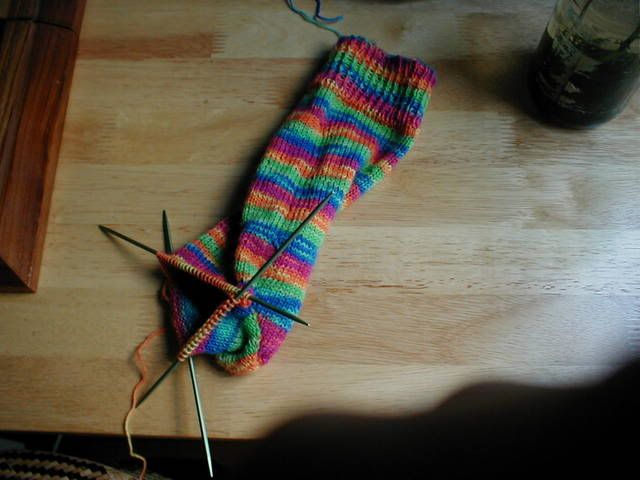 I think I've finally gotten the hang of picking up wraps corectly. I mean, my other short row heels have looked good enough, but the one on this sock is terrific! I adore this yarn!


Finally, here is a picture of the completed
Little Sister Sweater
, by
Amy King.
I highly recommend this sweater as a quick baby project (perfect for a last minute baby shower). The only change I made to the pattern was to put the buttons along the raglan seam, rather than on the front of the sweater. I think it's cute as hell.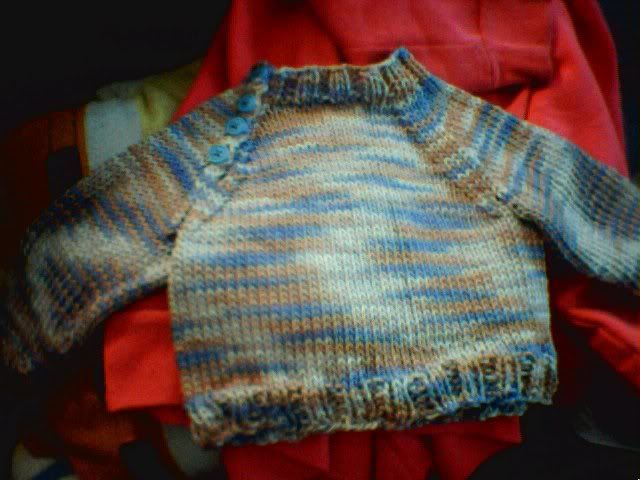 Just a Palm photo, since the batteries in my camera had died that morning and I finished sewing on the buttons mere moments before I had to leave for the shower. I believe I have enough of the yarn left over from the hank of Laurel I used to make another sweater. You can't beat getting two baby sweaters out of one hank of yarn!

My plan is to complete my sock and the lamb all-in-one before casting on for anything else, however, I have been fondling some
Cotton Ease
in the Pineapple colorway and thinking wistfully of a cotton Ribby Cardi. Will I have the willpower to resist another project? Tune in!