Wow. I really thought I had posted last weekend! Oh well, I probably didn't because there wasn't much knitting going on, and I didn't have much to show. I had the Zippy cardigan knitted and seamed, but didn't want to show it without a blocking. Here it is, in all its unzippered glory: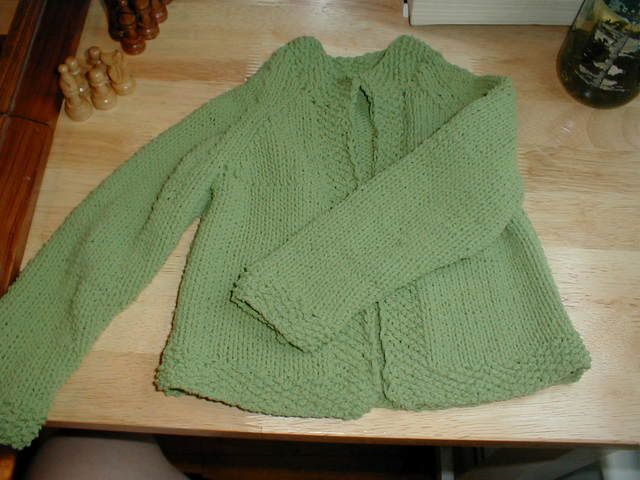 I'm planning to go out this week and get the zipper. There's a baby shower this weekend, and I'd like to have this wrapped up by then. Stats:
Pattern: Berroco Zippy cardigan
Yarn: Berroco Lullaby, in quince colorway. I made the smallest size and used about 3.5 balls


I liked using the Lullaby, even though it snagged on every little thing imaginable. The finished sweater feels so cuddley, yet light. Like a fleece jacket. I know the baby won't be able to wear it for awhile, but I'm hoping he'll be able to wear it in the winter or next spring.
Next up, I casted on for the lamb all-in-one sometime in the last week or so. I've got the foot and part of one leg done. I think I'm up to where I need to begin shaping for the (for lack of a better word) crotch. It's a good thing this baby is small, because the whole thing is in garter stitch, my most dreaded stitch. I've never been a fan of garter stitch, and actually have never made a garter stitch scarf, but I think it works in this project. It gives the idea of a lamb's coat.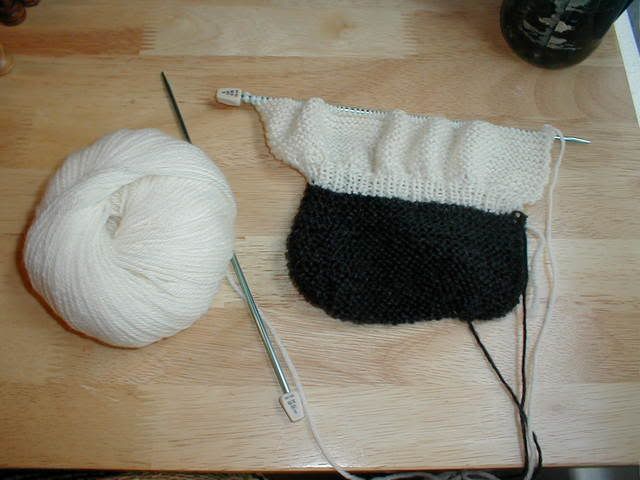 I like the yarn I'm using for this project, but I won't get too attached to it, because it seems hard to find. I googled for it and came up with lots of links of people using it, but none for where to buy it. The yarn store I bought it from is hardly local, so I will simply put it out of my mind. It costs about the same for the same yardage as Debbie Bliss'
Merino DK
, which is also superwash.
Since I'm having such a grand time with baby projects lately, I decided I should do just one more sweater for this baby. I have five balls of Mission Falls
1824 Cotton
which I bought for the express purpose of making a sweater for this baby, but it just wouldn't work in any of the projects I wanted it for. Pawing through my stash, I came across this beautiful cotton yarn that I bought on sale at least a year ago. They only had one hank in the entire store, but it was 400 yards, so I figured I'd pick it up and find something to do with it. Well, the project for this yarn has arrived!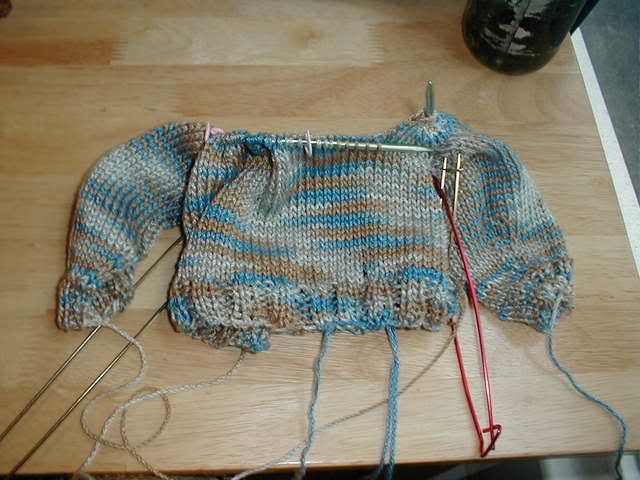 The yarn is
Shaefer Yarns Laurel
. I don't know which colorway, since I lost the tag, but it doesn't look like it's still available. This yarn has reminded me of the beach from the second I first picked it up. My friend Amy is making a seaside themed nursery for her child. It's a match made in heaven! I'm using
Amy King's Little Sister Sweater pattern
. She created the pattern in her frustration to find a simple raglan sweater without seams for babies. I have to say, I'm glad she had the problem, because her pattern neatly filled my requirements for this yarn. I hate when I'm using variegated yarns and have to worry about matching colors at seams. The sweater would probably be done already (I started it the day before yesterday), but I had to spend six hours working out the most heinous knot I have ever seen. T had to help me at the very end, when I had what looked like a lump of macrame left. I'm glad I saved all that yarn though, because I
might
have enough yardage left over to make another sweater later.