I spent Saturday morning making these guys.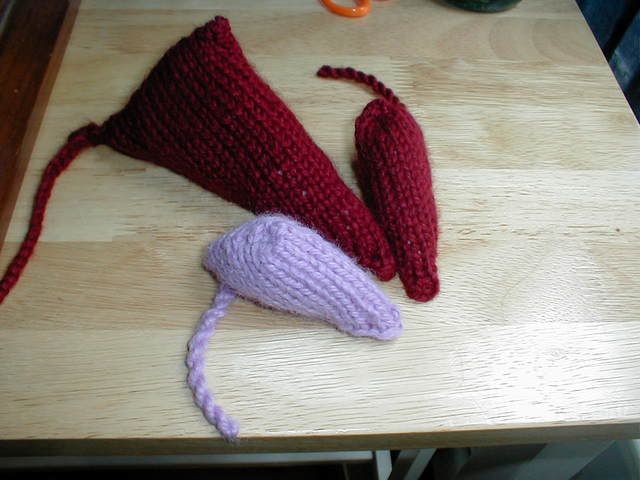 From start to finish, each of the smaller mice probably took me about a half hour each, and the larger one took only a bit more than that. The small ones are being sent to a friend who's cat went nuts over a scarf I made her for Christmas (the pink one is made out of the same yarn, Plymouth
Baby Alpaca Grande
), and the large one is going with me to work where the resident lhasa apsa can go nuts over it (I made a hat out of this yarn, Debbie Bliss
Alpaca Silk
, and the dog freaks out every time I wear it). What is it about animals and alpaca, do you think? Maybe alpacas are just a little more wild. I decided not to add ears or eyes. I assume they would just be pulled off, and probably swallowed.
My corner of the world has been covered by a heavy quilt of cloudy skies and doused in rain for the past two weeks or so, so imagine my surprise and delight on Saturday morning when I woke to actual, real-life
sunshine!
I had almost forgotten what it was like. T and I spent the day driving all over hell and creation, poking around outside. We also stopped at two tiny little yarn stores. I'd been to one of the stores before, and even though I loved it, I never got back to it because it's so far out of the way. The proprietor was most helpful in helping me choose a superwash DK weight wool for the lamb all-in-one I plan to make for a friend.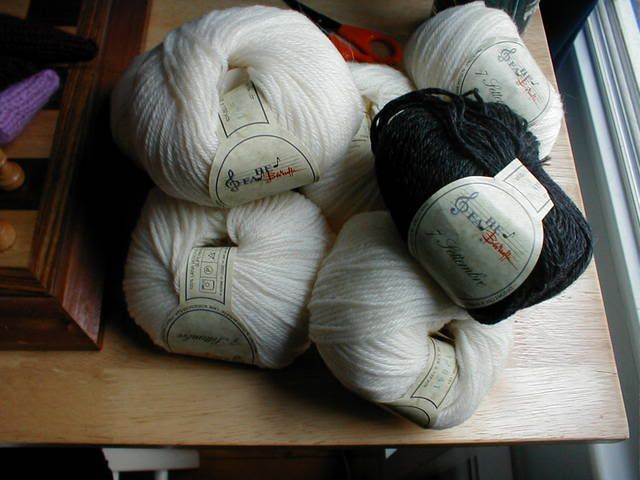 I had never been to the other store, and from the outside, it didn't look very promising. Inside it was mostly Bartlett Wool and Plymouth
Encore
, but tucked into a corner on a top shelf I spied something that looked decidedly interesting.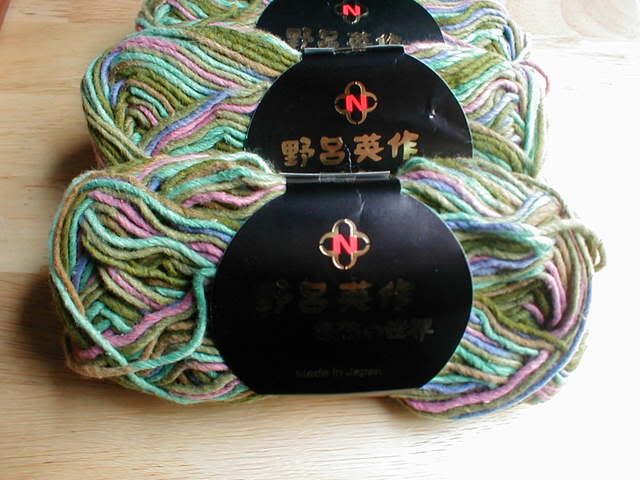 It's Noro
Cotton Iroha
, a yarn I've never even seen before. I bought four skeins for the bargain basement price of $3.98 each! It's a cotton/cashmere blend, and is not self striping. I think it'll make a cute bag.
Yesterday, there was no knitting action, and no yarn purchases. I started my day by taking my nephew to see
Madagascar
. Poor little guy tried so hard to like it, but I could clearly see he was bored as hell. There were a couple of good moments, but one of those was the preview for
Charlie and the Chocolate Factory
. It looks like Tim Burton's version will follow the book more closely. I am ridiculously excited to go see it.
We spent most of yesterday outside, so I will leave you with a couple of shots from our adventures.
À bientôt!