I finished sock #1 the other night and, in what have been a bad move, did not cast on immediately for the second sock.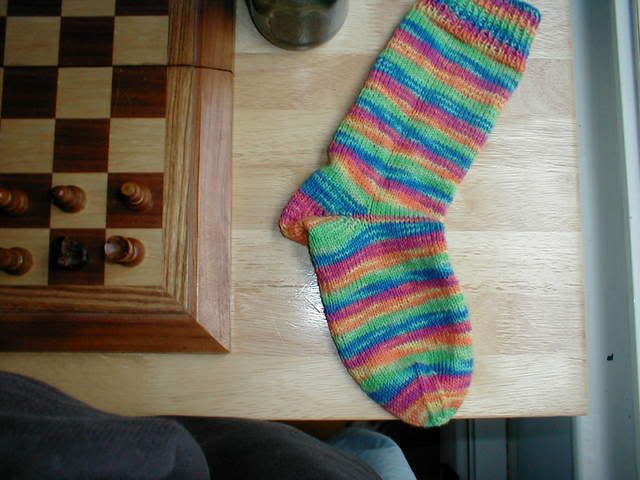 I love the bright colors! They've been the perfect antidote to the cold, drizzly weather we've been having. Don't get me wrong, I love rainy days! But it's so much easier to appreciate them after a string of sunshiny ones.
I tried to pick up stitches for the front bands of the Ribby Cardi three times last night before I gave up and knit them seperately. I'd rather sew them on. Since I learned how to seam properly, I've loved the task. I've not yet cast on for the Zippy cardigan, but I did buy some (discontinued!) Mission Falls 1824 cotton for a baby sweater. I have to stop buying yarn for baby stuff for my friend Amy. Baby sweaters go fast, but I don't want to commit myself to too many projects and feel rushed. Besides, her baby is due in August. How many sweaters will he need?
I learned the other day that Lion Brand has discontinued
Cotton Ease
. That might explain why I haven't been able to find it
anywhere
. I am bitterly disappointed, and wrote them a letter telling them so. I also mentioned that
Cotton Ease
is the only Lion Brand yarn I use. They wrote me back, basically saying, "Tough luck, toots. That's the way of business." What is going on with these yarn companies discontinuing their cotton yarn in the beginning of summer? How does that even make sense? They should at least warn people of the impending disaster, so they can stock up while the yarn is in the store. Ah, well. Ebay is my pal... I'm in the running for some
CE
right now!