Over the last week, I seamed up my Ribby Cardi. Here she is, so far, modelled by Betty: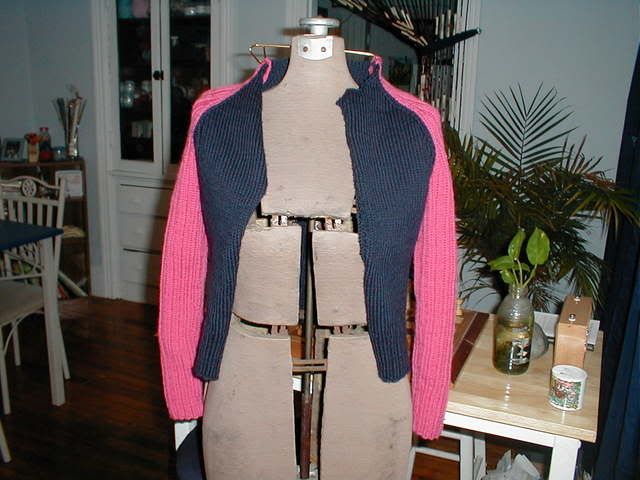 When I first started this sweater, I thought I would do the large collar in the pink yarn. Now that I see it all put together, though, I think I'll do the rolled collar instead. I plan to make a solid version of this summer, and will probably use the larger collar on that. I still have to pick up stitches for one front band. I forgot that I frogged one of them, because the stitches were too tight and were warping the fabric. I'm taking my sweet time on this sweater now, since I probably won't be able to wear it when it's finished. I'd like to think it'll be too hot outside.
I casted on for the
Zippy Cardigan
this weekend. The back took me no time at all: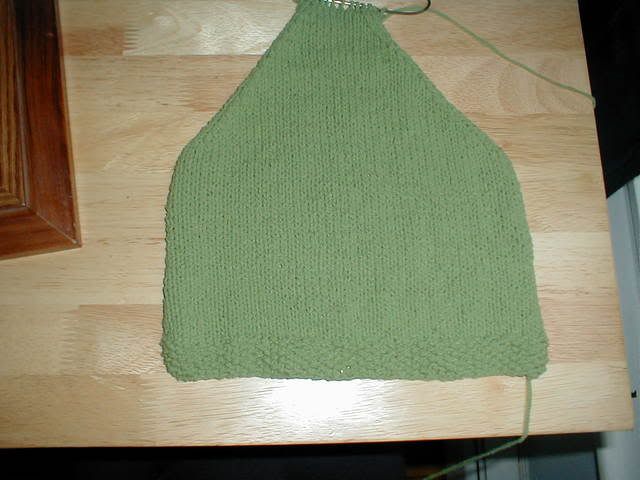 I'm using the suggested yarn, Berroco
Lullaby
. While it's incredibly soft (it rivals, though is not quite as soft as, Wendy
Velvet Touch
), it also sticks to my, shall we say, less than girlish hands. I have dry skin anyway, add to that my finger biting habit and you have lots of little places for a soft yarn to catch. Putting on hand cream helps for a bit. I guess it's just more incentive to leave my fingers be. As soon as the Zippy Cardigan is finished, I plan to cast on for another baby sweater using the Mission Falls cotton I got (cabled, I think). My friend is due in August, so I have some time to get these done, but I'd prefer to not be rushing. Besides, baby sweaters are so fun! When else can you finished a complicated cable design in a weekend? Of course, that's only if you don't use sport weight yarn.
Well, off to work!