I got my final package from my fabulous secret pal the day before yesterday. I was so excited, I took a picture right there at work with my Palm.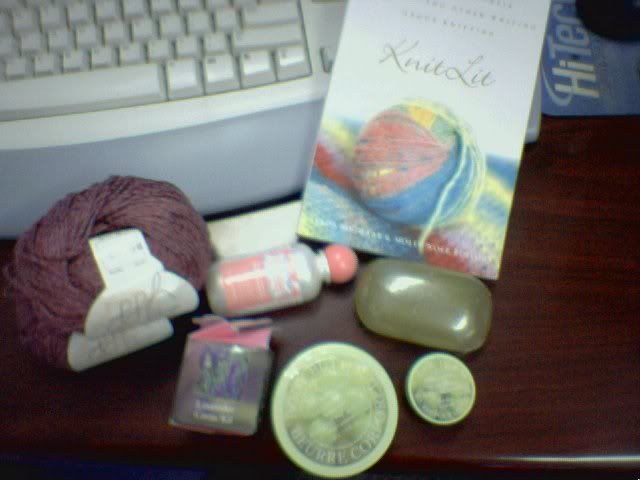 I got some swanky stuff from the Body Shop, Eucalan (I was going to buy some this weekend!), the book Knit Lit, a little pot I can grow lavendar in, and two balls of GH Mystik.
I also got a reveal!!! My secret pal has been...
Parikha of Dropped Stitches!
Thanks for the amazing packages, Parikha! I definitely felt spoiled. What's most amazing is that she kept up with Secret Pal 4 while in the midst of a cross country move. And I was getting stressed out over a move two towns away! The funny thing is, I had already read Parikha's blog a couple of times, when I was randomly clicking on blogs from the Secret Pals blog. Anyway, she's awesome, and you should check out her blog.
The secret pal I was sending packages to was
Lalitha, at Knittylali
! I had such a good time picking out things to send. She's branching out into sock territory, appreciates a fine yarn, and is studying to be a librarian. Drop by her blog and say hello!
I've always loved sending packages to friends, and that's what secret pals felt like, even though I wouldn't have known my secret pal if I walked into her on the street. I'll sign up again some time in the future.
Not a whole lot of knitting this week, but I did manage to finish the fronts of Zippy.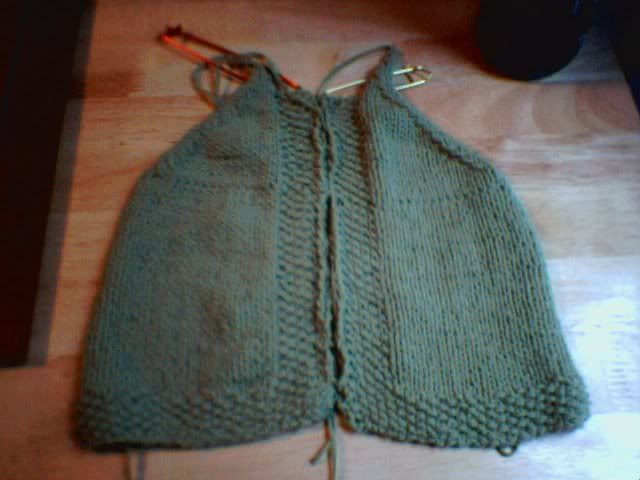 This photo is also courtesy of my Palm. The batteries for the camera are charging.

I broke from tradition and knit the fronts seperately, at the rate of one per night. I was feeling the need for something fast, and thought maybe doing one wee front at a time would be the ticket. And it was! Now I'm ready to tackle both sleeves together. They are casted on, but only about two inches long right now. I'll spare you the picture. The sweater is going to be so freaking adorable when it's finished. I believe I'll be inspired to cast on for a second baby sweater immediately.
I was going to knit last night while watching a movie, but felt so lazy I just watched (half) the movie (before falling asleep). It was one of my favorites:
Guess Who's Coming to Dinner
. Anyone who's seen it can understand why I was so disgusted when I saw previews for the "updated" version, called simply
Guess Who
. The original is a funny movie, but not in a slapstick kind of way, and the acting is superb (I mean, come on! Tracy, Hepburn, Poitier....). If you haven't seen it, I highly recommend it.