Not too much knitting happening this week. I got some more done on my nephew's sweater: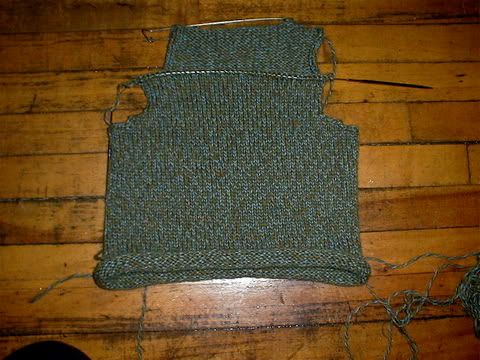 Seeing as it's a toddler sweater, I don't anticipate it taking much longer to finish. I just need to find five consecutive minutes to work on it.
I picked up the new
Family Circle Easy Knitting
and
Vogue Knitting
magazines today. FCEK actually has some decent stuff in it, aside from the glaring red sweater with a primary green Christmas tree on it (as if that's not garish enough, it also has a turtleneck collar decorated with primary hued buttons).
Vogue Knitting
has some nice stuff, including two things I would like to start immediately. First up is
this gorgeous jacket
. Truly stunning, I believe I audibly gasped when I first saw it. Secondly, the beautiful Michael Kors sweater. I just love the simplicity in everything Michael Kors does. I think, though, that knitting one of his designs is the closest I'll ever come to owning one. Unfortunately, the VK site does not have an image of his sweater, I'm sure one will be posted soon somewhere.
I finally found an image of the Astrakhan cardigan
. I've not done battle with that in a few days. Something strange happens when I begin to knit, my gauge grows. When I swatch, it's perfect, but as I knit it gets more and more loose until it's huge. It looks like I might have to go down to a US5, which naturally makes me wonder what to do when I get to the shawl collar. I don't think I'll have the gauge issue with the
Cashmerino Aran
, so I don't know if I should just do one needle size up or stick with the one recommended by the pattern. This is why I wish designers would include the gauge for all yarns used in a pattern.
Hopefully next week I'll have a little more to show. Ciao!