So I missed the deadline of the baby shower. I wasn't really surprised, since I started the sweater about three days before the shower and had to rip back. It was worth starting over though, because it's coming along nicely.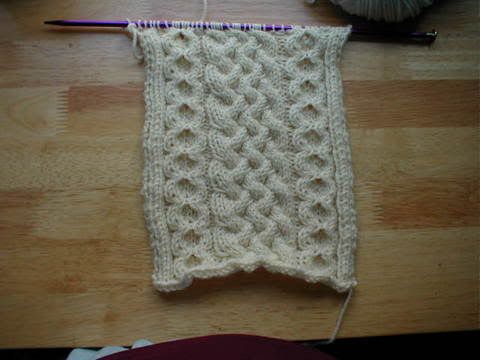 The pattern is from the premier issue BHG
Knit It!
magazine, and I've made it once before. It was actually the first sweater I ever made, and I used Lamb's Pride Worsted and US8 bamboo needles. For this one, I'm using Cascade 220 superwash and aluminum needles. I tried to use those same bamboo needles but I just couldn't. I have a need for
speed
. I rarely use wooden or bamboo needles, though I have several pairs. I also had to go up a needle size this go 'round, which is strange because generally I always have to go down a size to get gauge. In any event, this is the back, mere inches from being completed. The front is identical, the sleeves and collar are ribbed. I love this little pattern, I just think it's so cute!
I also have a photo of the mittens & hats I made over vacation.
I gave my youngest nephew his mittens yesterday (I have to weave in ends on the hat and make a cord for my older nephew's mittens), and he didn't want anything to do with them! Of course, he doesn't want anything to do with any mittens, but my older nephew was so in love with his that I just assumed the younger would be the same. Silly Auntie.
I joined a knitalong! Put on by
Alison of the Blue Blog
, it's for Christmas gifts!
It even has its own blog!
Since the people I'm knitting for don't really check out my blog, I'll probably update on both. I have a small gift list this year, but since I haven't started yet, I could use the support!
Finally, I was putting away some yarn today when I realized, to my horror, that I have really run out of storage space in my china cabinet. So I'm seriously making a resolution to knit out of my stash until I have room for more. I actually don't even have all my yarn in that cupboard yet, and I just don't want to be finding yarn squirreled away all over my apartment. Wish me luck! It's so hard for me to pass by a sale!