It's been a long time since I last updated. My excuse? I was on vacation! Yes, I spent a lot of time at home. And yes, I did buy yarn. And I actually did some knitting, too. But I just never got around to writing about it. The most exciting news about vacation was the addition of two little girls to the apartment.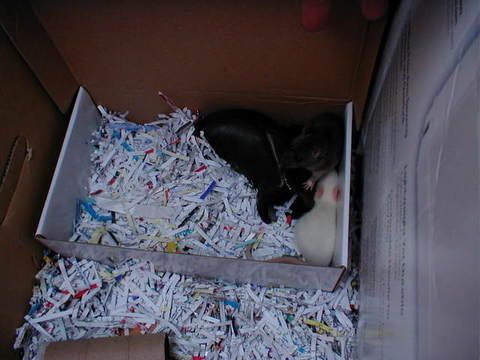 Meet Eunice and (for now) White Rat. They are the cutest little dumplings in the world and I love them. And they love yarn. It's a match made in heaven.

I didn't touch Rogue or the Astrakhan cardigan once all through vacation, though I went to Patternworks and saw that they had a swatch of Astrakhan done with US6 needles, which makes me think that my hypothesis that I'll have to use US5 needles for the cardigan has been substantiated. I don't have pictures, but most of my vacation knitting became hats and mittens for my nephews. When I get home I'll take pictures. Great stash-busters. I was able to kill a leftover skein of Lamb's Pride Bulky on mittens and stripes in a hat for my youngest nephew, and most of a skein of black bulky on hat for the older nephew and stripes on the smaller hat. I used Lamb's Pride Worsted for the older boy's mittens. I love how they came out, and may use LP for all future little boy mittens. I say that now, but I have some Cestari to use, too.
I finished the wee sweater in short order. I actually think I had it finished before I started vacation... shortly after my last entry. I'm a bad blogger!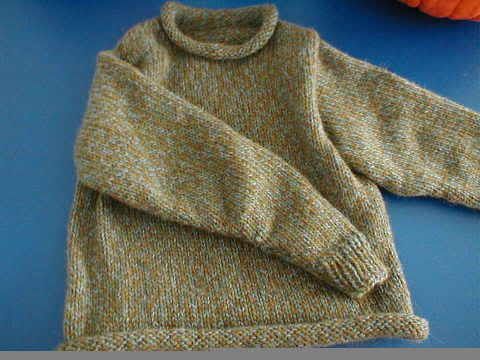 I've not yet delivered the sweater. I'm thinking of waiting until I finish the one I plan to make for the big brother. I bought the cutest little tags that say "Made with Love by Your Favorite Aunt."

I casted on last night for a baby sweater for shower this Saturday. I guess I won't make it! I knit a few inches last night, but upon looking at it this morning, I noticed that the cables were a little wonky in a couple of spots and the gauge was
way
off. So I ripped it out and did one repeat this morning. I remember when I was a new knitter, I finished the same pattern in a week or so. Hopefully now I can be a little faster and maybe get the sweater to the expectant mom early next week.
I do solemnly swear to take pictures either tonight or tomorrow!