If you'll forgive kind of shoddy picture quality (I had to catch the last shreds of daylight), I'll go ahead and post the pictures of my freshly finished Rogue!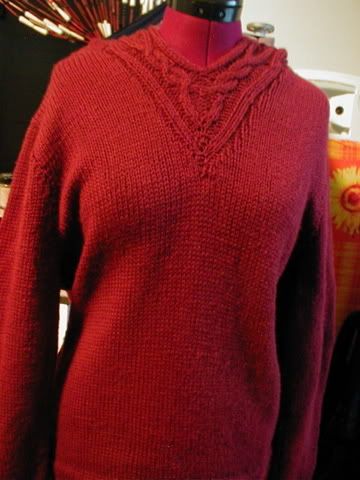 Project Specs: Pattern: Rogue, by Jenna Wilson
Yarn: Elann's Peruvian Collection Highland Wool, a little less than 14 skeins

Wanna see another shot of the hood?
I can't
believe
that I started this sweater in September! No wonder I feel like I've been working on it forever! The pattern is fun, so I do plan to make another someday, though only after I knit down my stash a little bit. I don't have any yarn at present that I'd like to use. I would love to see this sweater in Peace Fleece (especially if it were hanging in my closet). As for the yarn, I like it. I'm not scrambling to pick up more, but it was very nice to knit. It felt soft under my fingers, and behaved very well. Zero splitting, tangling or pilling. The finished sweater still makes me feel a little itchy, but hell, everything does. I'm just cursed like that.
I went to take pictures of the pre-felted hat I made, but when I picked it up I realized I haven't woven in the ends yet. So I'll do that tonight, and you'll have pictures soon.