Sorry about the prolonged silence... I've been on vacation and away from the Internet. The downside to this is catching up on my email. The upside is the knitting that I was able to accomplish! I finished six squares! This brings my grand total to fourteen completed squares. Just six to go, and then I can begin thinking more seriously about borders. The more I consider it, the more I'm leaning toward the classic simplicity of the icord border.

Of course, no vacation would be complete without a good yarn crawl. The very first day of vacation, I went to the
New Hampshire Sheep and Wool Festival
; It was my first time attending. Unfortunately, I didn't get any pictures, because I feared for my camera. It was absolutely
pouring rain
, and the fairgrounds were soggy and flooded. Even though I was soaked through, I still had a good time. There were many, many adorable animals such as angora goats, sheep, alpacas and BUNNIES. I saw some interesting demonstrations, and learned a little bit about needle felting. I almost bought a drop spindle, but then came to my senses. I barely have room for my yarn stash, let alone a fiber stash! Fiber takes up a lot of space, you know. I also saw some weaving, which renewed my interest. Again with the space issue, though. If I'm going to weave, I want to be able to make
fabric
, not just scarves and belts. No sheep and wool festival is complete without yarn, of course, and I partook of the offerings. I picked up some Spirit Trail sock yarn in a beautiful gray color, and some hand dyed sock yarn from Dorchester Farms. And that was it. There were a lot of alpaca and mohair blends available at the festival, but I'm trying to avoid adding more of those fibers to my stash.
A couple of days ago, my boyfriend and I took a nice long drive (238 miles roundtrip!), and went on a yarn crawl. Why yes, I
do
have the best boyfriend ever. We first stopped at a brand new little yarn store in the area, which has Koigu, Trekking XXL, and Manos Del Uruguay. These are all yarns that were previously hard to get in this area. She also has a large trunk full of vintage patterns, and an adorable little dog. I began my yarn journey with a skein of blue Trekking XXL. After that, we stopped at three other stores (two of which I've been to before, one I had not), and I picked up a skein of Opal sock yarn in the Tiger colorway, two skeins of Frog Tree Merino in charcoal gray, and a ball of the most heavenly soft lace yarn I've ever felt. I've had a hard time finding the Frog Tree Merino in any stores locally, or even online, so I was glad to get back to this particular store and pick some up for some soft gloves. The word "buttuh" comes to mind when touching this yarn.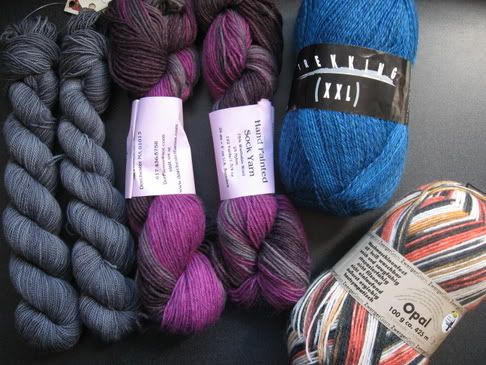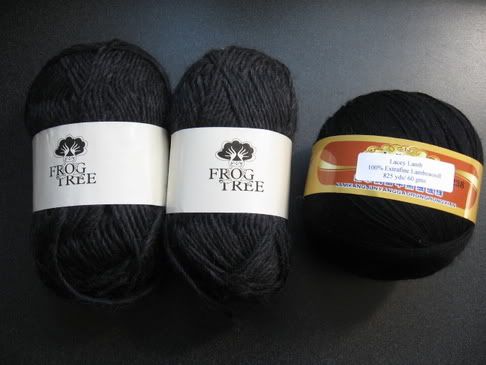 Have you noticed the sudden increase in sock yarn acquisition? I recently purchased
Nancy Bush's Knitting Vintage Socks
, and have fallen in love with half the patterns. I kind of feel like this might be the summer of the sock around here. But of course, I don't want to get ahead of myself.
PS: Photobucket appears to be having a fit right now and won't upload my pictures. I'll upload them as soon as I can to share!