I had a snow day yesterday, so along with playing Nintendo, watching movies and reading, I made real progress on my projects.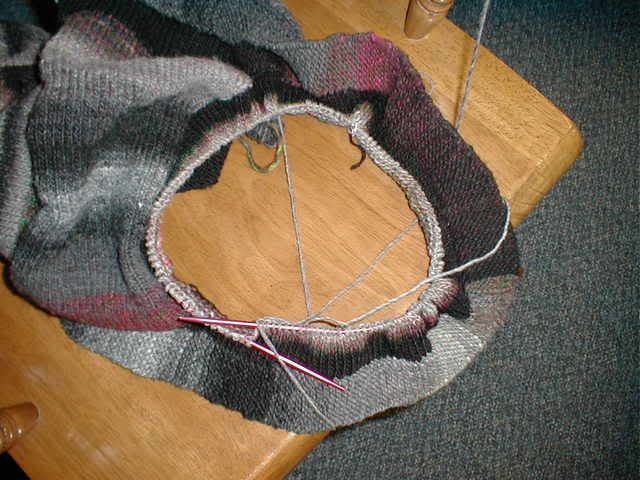 I got the gumption to pick up for the second sleeve. I didn't get it until around 8 last night, so I only got to work on it for an hour.

Now that the second sleeve has started, my desire to work on this project is rejuvinated! I can't wait to wear it.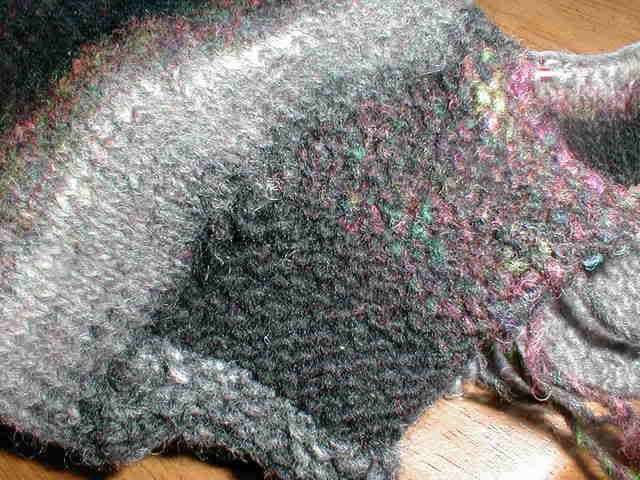 The cuff was not ready for her close-up, she kept murmuring about her ends all hanging out, but I assured her you would love her anyway.

I realized I went on about how much I loved making the cuff, but never showed it in all its glory. I'm usually not a big fan of garter stitch, but it really works in this sweater.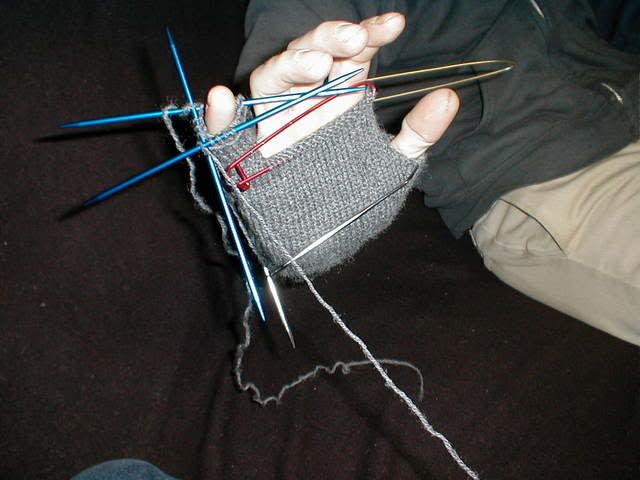 Coming soon to a yarn store near you... it's Freddy Krueger!
I've had my boyfriend try this glove on every step of the way, because I want it to fit perfectly. I hadn't noticed the blue needles, the red and gold stitch holders, the silver of the circular holding the thumb stitches, until he said he felt like a patriotic Freddy Krueger! Which also reminded me that I've been planning to make him a Freddy sweater for years now. I'm having a very difficult time finding the right colors for it, though.
I'm so anxious to finish Round Trip because I want to get started on a
Ribby Cardi
. Seeing the
gallery
and all the great cardigans being made, I want one of my own. I've finally settled on my color scheme (navy blue and fuschia), but can't decide if I want to still do stripes on the sleeves or not. Seeing them on someone else's sleeves has given me pause. Maybe I prefer the solid sleeves. Plus I need to get the yarn soon to make
Gigi
. I finally decided to use baby blue and black for that (after a brief flirtation with using lime and hot pink).