I finished knitting the Round Trip cardigan last night, and spent today weaving in ends (I had more ends than expected, since the yarn kept breaking and I kept finding knots).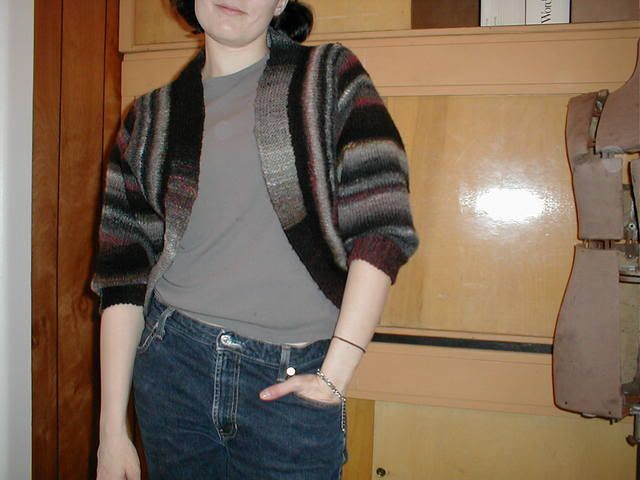 From the front. I'm thinking of finding a simple pin to hold it closed, when I'm in the mood for that sort of thing.



And from the back. I LOVE this cardigan, both for its unique construction and the way the Noro looks.

Project details:
Pattern: Round Trip,
Knitter's Magazine
, Fall 2003
Yarn: Noro
Kureyon
, #116. The pattern calls for 8 skeins for the size small, and I used almost all of 8 skeins.
Needles: I actually got gauge with the recommended US7!
I would definately make this sweater again.
In other news, last week I decided I would probably never get around to knitting an iPod cozy before it got scratched all to hell, so I sewed one.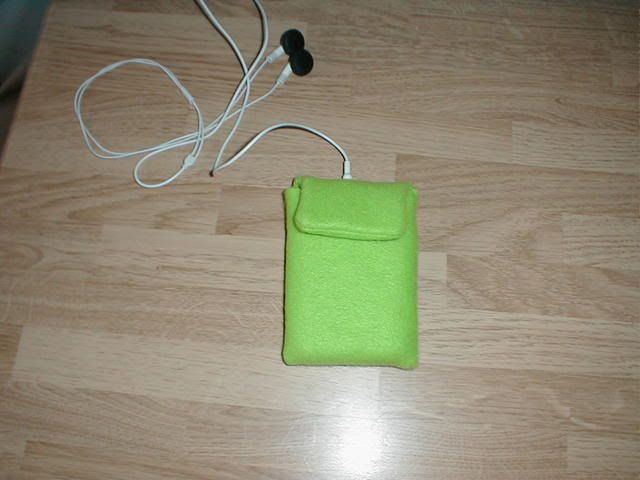 I bought a frog applique to sew on the front of it, but I think I'll save that frog for something else. Basically this is just a piece of fleece folded over, closed with a snap. It'll do.

Because the fleece I bought for the cozy was a remnant, I now have pretty much a yard and a half of that fleece left. If I'm not careful, next thing I know I'll have a fabric stash too.
Next stop: swatching for Ribby Cardi! Thanks for the suggestions of
Cotton-Ease
. I plan to go the Jo-Ann's route the next time I get paid. Thanks, Secret Pal!