So my Christmas knitting has begun in earnest. I finished one gift (which I won't show here because I think the recipient checks out my blog once in awhile), and I'm working on another, then I have one more planned for sure. I have a couple of things I would like to knit for gifts, but I'm not commiting myself. One year I made this huge knitted gifts list, and it sucked by the end because I could do nothing else besides knit, and if I did go out and do something that didn't involve knitting, I felt guilty.

I casted on for the Sonoma shawl. I showed the pattern a few months ago and said I was going to get started on it. I always knew it was going to be a gift for Christmas, but of course, I couldn't get properly motivated to cast on until it was properly holiday season. So far it looks rather like a floppy bag.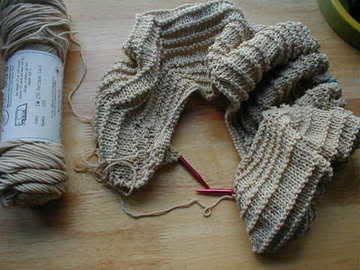 I'm actually about halfway through with it! I'm using
Cotton Fleece
, which is not my favorite yarn to knit, so I can only do a couple of hours before I need a break. I'm going to be casting on next for a Christmas stocking for one of my nephews, which is knit in wool, and I'll use that as a break project until the shawl is finished.
I'm off to buy fish and rat supplies! Speaking of which, want to see a picture of the girls? Of course you do!
Squirrel is finally coming out to play!