Watch out! FO blocking....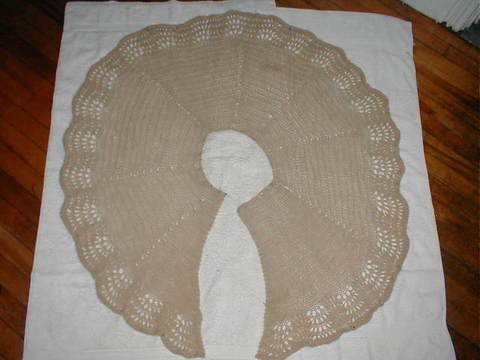 This is the Sonoma Shawl that I made for my grandmother for Christmas. It was a long, hard road, but I stuck with it and
finished on time
. I think the fact that I knew I
had
to block it, helped push me onto completion. Otherwise, I probably would have waited until the absolute last minute. I'll save the specs for the true FO shot, but I would just like to remind you that the yarn I used for this is 80% cotton, and 100% a pain in the buttocks (and hands). I kept putting it down in favor of wool projects, to give my hands a break. Towards the end it got really rough, with 472 stitch rows. It wasn't really the kind of project I could just do a row or two of in the morning. I will probably make the pattern again, but in wool. I think it would be nice to wear in the office. I work with some pretty warm-blooded people who
just
turned off the A/C! The shawl is meant to be closed with a pin, but I think instead I'll do a large button with a loop closure. Less fiddley, and it can't get lost.
So now, work continues on the Christmas stocking. Oh, wait... have I mentioned the Christmas stocking? Probably not. I started a Christmas stocking last weekend for my older nephew. Here's where I was at this afternoon: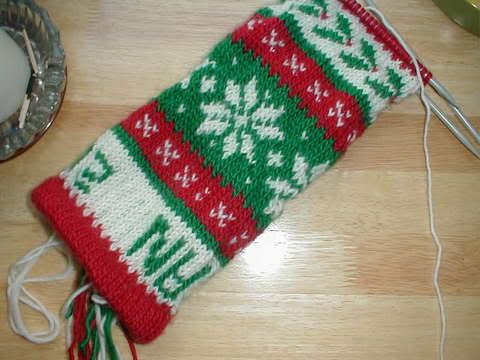 I'm blowing the doors off this one! Since I took that picture a few hours ago (enough time to watch both
The Nightmare Before Christmas
and
Rudolph's Shiny New Year
), I have turned the heel and am about to start the toe! I'll have it finished tonight. Good thing, because I just realized the other day that when my dad asked for mittens for Christmas, he meant for me to knit them. D'oh! Such is the life of the only knitter in the family. I can't have my daddy going around with cold hands! What would the other knitters think? I'd be a disgrace! I found some nice navy blue
Peace Fleece
in the stash that I bought years ago for mittens for myself, but such are the sacrifices knitters will make for their loved ones. Fortunately, I have some lovely Lorna's Laces in the stash for mittens too (not to mention a thrummed mitten kit that's been marinating for so long, it's saturated).
After the mittens, I'll get back to past projects... the zipperless Zippy and Ribby Cardigans, the forlorn Rogue that needs a little frogging, and the bloody Astrakhan cardigan that needs to meet gauge. Or maybe something new. Hey, just saying. I can't be held accountable if some new and shiny yarn catches my eye!