After a fruitless search for an open wireless connection, I ended up here at work where I know the WEP passphrase and can log on with my own computer (which has my pictures), and make a weekend post. It's called dedication, people.

Work progresses on the afghan: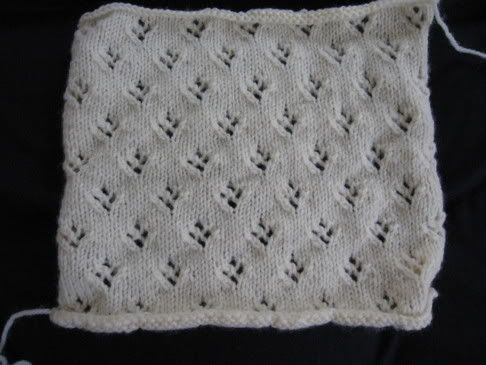 Square #1!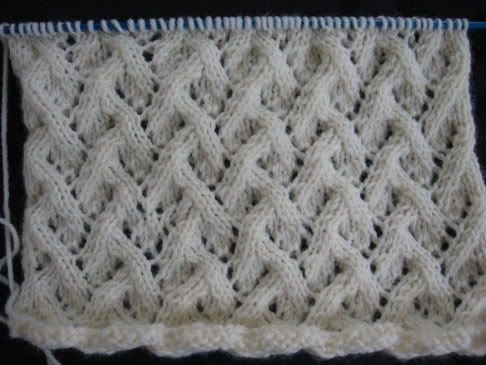 Square #2!

I've since finished square 2, so the next time you see that one will be in the finished blanket! I love the eyelet patterns in the book best, and it's a good thing. I was able to get these two squares out of one ball of Encore. I think I'll still order more though, just to be on the safe side.
The pattern calls for the afghan to have a crocheted border, but I'm thinking of hitting up
Knitting over the Edge
for other ideas. I know my fellow knitters will understand when I confess that last night I had a nightmare about... crocheting. I dreamt I had to crochet something (I wish I could remember what), and I ended up with a skinny, mangled piece of yarn twisted like a pulled-apart slinky after hours of effort. II think my subconscious may be telling me something.
Amy asked in the comments to my last post about my
Branching Out
scarf. I used
GGH Mystik
which I got from my secret pal,
Parikha
. The finished scarf does not hold it's shape, and the pattern overall is a little lost. That was the effect I was after, however, kinda rumpled old professor, kinda street urchin, kinda fashion model. Hope that helps!